Shop for Chorus
Do you shop for groceries, use or give out gift cards, dine out, or shop online? If so, you can help support the Whitman choral program every time you shop—without spending an extra penny! Here's how. For questions about any of the programs outlined below, contact whitmanchorus@gmail.com.
Amazon Shopping
Shop at amazon.com? Type one extra word before you shop, and Whitman Choral Boosters will automatically receive a percentage of most of your spending directly from Amazon. Just type smile.amazon.com in your browser before every shopping trip. (The first time you visit, you'll need to designate Walt Whitman Music Boosters as the beneficiary, but it'll be automatic from that point on–until you decide to change the beneficiary at any point in the future.)
Online Shopping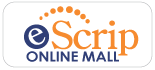 Before you head to directly to bestbuy.com, gap.com, target.com, or one of the other thousand-plus sites that are part of the eScrip Online Mall, click through the link at the right and Whitman Choral Boosters will earn up to 16 percent of your total at no cost to you. Please note that you must use this link–specific to our group–in order for our program to benefit (and you will need to register the first time you log in). Feel free to bookmark it and share with friends!
Install the eScrip Forget Me Not reminder software (available here), to get an automatic alert every time you visit an eScrip partner site. Then you can just click on the alert and a percentage of your purchase will be rebated to Whitman Choral Boosters.
Gift Card Sales
Two or three times per school year, Choral Boosters runs a gift card fundraiser that allows you to buy gift cards to a wide range of stores at face value and Choral Boosters receives a "commission" of up to 14 percent. Put another way, for every $100 in gift cards purchased, the music department makes $2.50 to $14 to put toward our children's music education. It's that easy, it adds up, and there is no additional cost to you! You can even "double dip" and make your shopping benefit the Whitman music program twice by purchasing a gift card through our fundraiser, and then using it when you shop via the eScrip online shopping mall linked above.
Order forms are sent home with students and are posted on Choralnet during each purchase opportunity. Here's the current sales form.
Dine Out for Chorus
The eScrip program also donates to the Choral Boosters 2.5 to 5 percent of your bill at participating restaurants, which include everything from Potomac Pizza to Grapeseed. To sign up for the dining program, you must register the credit and debit cards you use when dining out (or carrying out) at escrip.com. Then, simply use one of those cards at any of the restaurants listed at escrip.rewardsnetwork.com/, and the Whitman Choral Boosters will automatically earn a percentage of your entire bill!